We don't hear a lot about Ruben Studdard, but here's some news about the season two American Idol champ, courtesy of The Birmingham News:
A $50 million entertainment district planned for downtown Birmingham got a shot of star power Wednesday, as officials announced that city native Studdard plans to open his own club there.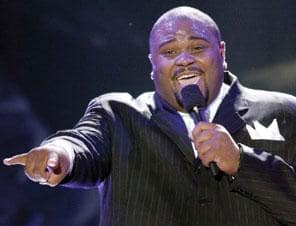 In addition, Memphis-based Performa Entertainment Real Estate, the planned district's developer, is working with another
American Idol
winner who hails from Birmingham,
Taylor Hicks
, on the possibility of opening a club there.
The working name for Studdard's venue is Ruben's Club 205, and it would offer the kind of soulful music he's known for, Birmingham-Jefferson Convention Complex Executive Director Jack Fields said during a BJCC board meeting.
Such an establishment, along with the prospect of a club with Hicks' stamp, would draw people to Birmingham and fall in line with Performa's goal of reflecting the city's history, culture and music in the district's tenant mix, Fields said later.
"That offers two very distinct types of entertainment that provide a broad spectrum for people to come and enjoy," he said. "These household names would create excitement for people to come to Birmingham and select Birmingham as a site for their meetings."
Economic developers have touted the district as a recruiting tool for conventions and businesses. Plans call for two hotels and dozens of restaurants, nightclubs and retail shops that are expected to begin opening as early as summer 2009.
Performa, best known for its Beale Street development in Memphis, has said it wants to capitalize on the national attention metro Birmingham has gained as the home of three American Idol alumni: 2003 winner Studdard, 2006 winner Hicks and Bo Bice, runner-up in 2005.
Matt Richenthal is the Editor in Chief of TV Fanatic. Follow him on Twitter and on Google+.