Earlier this week, we analyzed the rash of sick children on All My Children.
But as Soap Opera Digest reports, things aren't much brighter on The Young and the Restless. Here's rundown of recent births on that soap: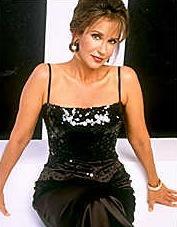 William Foster Abbott, born 1993
Jill (
Jess Walton
, pictured) was anxious to have another child, but her husband, John, got a vasectomy against her wishes. When it turned out she was already pregnant, he requested that she abort the baby, but she refused and their marriage suffered. Once Billy was born, things went from bad to worse between the two; Jill had an affair with Jed, and a bitter custody battle ensued. John then had a stroke. After that, he and Billy moved to New York. Eventually, John and Jill became friendly again and Billy returned to Genoa City as a teen.
Noah Newman, born 1997
Newlywed Sharon (Sharon Case)discovered she was pregnant and considered getting an abortion when husband Nick (unaware that she was expecting) stated he wasn't ready to become a pop. Once he found out, however, he prevented her from going through with it and they anticipated becoming parents. Sharon and her unborn child's life were endangered when she slipped and fell during a blizzard. Sharon needed surgery and Noah was born prematurely, but each survived.
Summer Newman, born 2006
Phyllis got pregnant with Nick's child while he was cheating on Sharon. Throughout the pregnancy, Phyllis, who'd already lost a child, was concerned that her baby wouldn't make it. Her fears were realized when she went into labor while caught with Jack (Peter Bergman) in an elevator during a blackout. Fortunately, Jack safely delivered the baby girl.
Fenmore Baldwin, born 2006
Lauren and Michael (Christian LeBlanc) were thrilled when she became pregnant, but Lauren went into labor early and became very ill. Both mother and son survived, but Sheila returned to town looking exactly like Phyllis (due to plastic surgery). Sheila kidnapped Phyllis, Fenmore, and Phyllis and Nick's daughter, Summer, but Lauren finally put an end to the reign of her nemesis when she shot and killed Sheila.
Matt Richenthal is the Editor in Chief of TV Fanatic. Follow him on Twitter and on Google+.