The Young and the Restless' David Chow has proven to be a powerhouse schemer, but is he a straight-up baddie?
Not even Vincent Irizarry knows what his character is capable of.
"At this point, I haven't made a decision about it," Irizarry told Soap Opera Digest. "Victor thinks David's bad because he's been married three times, and two of his wives died and one was a divorce with a hefty settlement. David could just be unlucky in love."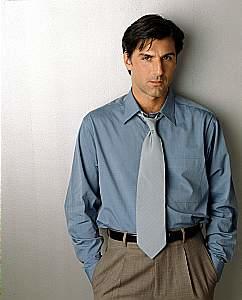 Perhaps…but there was also that time he splashed Nikki's stripper footage all over the Web, then joined her campaign, only to ruin it by planting a kiss on her! Add to that his attempts to drive Dru crazy with Carmen's double, not to mention his somehow getting his hands on the footage that landed Phyllis behind bars.
Clearly David's a player, but Irizarry still hedges about just how rotten he actually might be.
"For now, I leave it to the imagination of the audience, so that we can throw them off if they're not accurate," he said, but truth be told, his guarded theories may not be accurate, either. "I didn't know where this role was going to go when I signed on, and I still don't."
For now, he's enjoying the cozy space between Nikki and David. "There is definitely more romance on the horizon, and obviously, more romantic moments with Nikki will build the conflict between Victor and David," he notes. "It's exciting. I love working with Eric (Braeden). I worked with him years ago and have known him for many years, so it's a treat."
As the guys duke it out over Nikki (Melody Thomas Scott), Irizarry hopes David continues to walk the line.
"Typically I'd prefer a character that's not a goody-two-shoes and has shades of gray," he said. "I just don't want to become a one-dimensional villain. When the character is multidimensional, you can't wait to open the next script to see what you're doing next."
Matt Richenthal is the Editor in Chief of TV Fanatic. Follow him on Twitter and on Google+.