Survivor bid farewell to WWE Diva Ashley Massaro this week. But Reality TV World caught up with the beauty following her exit. Here are highlights from the interview: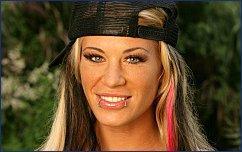 How did you end up being cast for Survivor: China?
Ashley: It was basically a joint decision because I work for WWE. I needed to do some arm-wrenching to go because that meant I was going to be off the air with them for a long time. But it all worked out great and they let me go.

What was the reaction of some of your fellow wrestlers?
Ashley: Well they didn't know I was going to be on
Survivor
until I got back (laughing). They were surprised. I got lots of phone calls and everybody was excited. They were like, "How's your ankle going to be?" This and that... asking all these questions. Worried.
Had you watched a lot of Survivor before going on the show?
Ashley: Yeah, I watched Season 1 of course. I mean everyone and their friend watched Season 1 (laughing). I watched Pearl Islands. That's the one with Jonny Fairplay right?
Yup.
Ashley: I like that one... a couple of other ones. I definitely brushed up on it before I left.
That leads well into my next question. How did you prepare yourself both physically and mentally prior to leaving for the competition?
Ashley: Well... I definitely tried to do some training outside. You know what was funny? I went outside and I sat in the rain. I'm not even joking you. Just one day for like 10 minutes to see what it felt like. And I'm like, "This is probably not going to be the case. But I just wanted to feel like every element. It might rain a few times."
Click here to read the full interview.
Matt Richenthal is the Editor in Chief of TV Fanatic. Follow him on Twitter and on Google+.