If last year's memorable TV phrase was Heroes' "Save the cheerleader, save the world," this year's to be "Save the show," writes Bill Simmons of ESPN.
NBC is damned close to burying Friday Night Lights, the popular columnist writes, which would be a shame on a number of levels, but none more serious than this one: It's the greatest sports-related show ever made.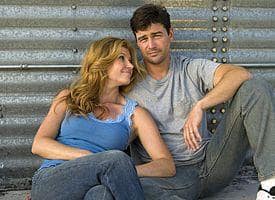 Every nuance is nailed, every hug seems genuine, every fight makes sense, every sarcastic barb and flustered reaction ring true.
If there are better TV actors than Kyle Chandler (Coach) and Connie Britton (Mrs. Coach), well, he sure as heck hasn't TiVoed them.
Returning for its second season on October 5, it's a fair bet that Friday Night Lights will be canceled for good by Christmas.
And when it is, it's going to be because of people like you.
Bill Simmons, a sports and TV fanatic whose defense and passionate plea to save Friday Night Lights appears in the new edition of ESPN the Magazine, feels confident about making the following three generalizations:
No. 1: You're reading this magazine because you like sports.
Okay, maybe you're killing time in a doctor's office, or stumbled across this in an airplane seat pouch, sandwiched between a barf bag and a catalog. But I'm going with the odds: If you're reading ESPN The Mag right now, there's a 96 percent chance you like sports, a 3 percent chance you're killing time - and a 1 percent chance you're stoned and think you're reading Rolling Stone.
No. 2: If you like TV, you wouldn't knowingly turn your back on a great show.
I know, that sounds like a quote from Joe Theismann. But most rational TV fans will cave once a show generates enough buzz, either because their curiosity is piqued or because it's on cable with an "N" or an "SSC" in the ratings. Hey, I've been there myself: I held out on The Sopranos and The Wire.
No. 3: If Nos. 1 and 2 are true, there's an overwhelming chance you'd love Friday Night Lights and a decent chance you aren't watching it.
And if that's the case, don't you owe it to yourself to rent Season 1, Disc 1, and try the first four episodes? Look, if Friday Night Lights doesn't make it, we're just going to get more Grey's Anatomy spin-offs (Private Practice), a CSI for every city and 20 Deal or No Deal clones.
You shouldn't feel guilty about jumping on this bandwagon. I watched the pilot when it originally aired, but I didn't love it: too much puke-cam (the camera stopped moving so much in later episodes) and an sports inconsistencies (Dillon wins via a Hail Mary that could happen only on a 140-yard field).
Continue reading Bill Simmons' column ...
Matt Richenthal is the Editor in Chief of TV Fanatic. Follow him on Twitter and on Google+.