Funny.
Sentimental.
The best new show on television.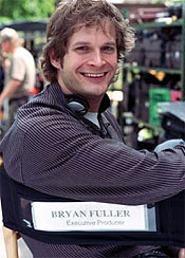 Pushing Daisies
creator Bryan Fuller (pictured) is hearing the sort of praise all writers wish to receive about a new series. But can he handle the pressure of such expectations? He was recently asked this, among a few other questions...
Pushing Daisies doesn't premiere until Oct. 3, but critics love it and the network is pushing it like crazy. How much pressure is on the show to live up to expectations?
Really no more pressure than I'm already putting on myself. It's kind of nice to have so much support. It's a big hug.
Are you surprised by the negative rumors people want to spread about the show, such as its struggles to stay on budget?
No, the currency in this town is information for a lot of folks. I had to giggle at [a report the first episode was $1.5 million over budget]. That number was so violently exaggerated it is hard to take it seriously. But we are over budget on a lot of episodes. If you talk to any show in town, they are going to be over budget. I read that Bionic Woman cost $4.3 million, but other people are just trying to shove that show under a bus, too.
How is this show's budget situation similar or different to that of Heroes [on which Fuller was a writer last season]?
On Heroes, we were over budget before we started because studios under-budget it to increase the margin of profitability with the network. They want you to do it for a certain number, they realize you can't, then they change the numbers. We were more over budget on Heroes than we were on Daisies. So the third episode we cut back to try to catch up. Then the network and the studio saw it and gave us more money to keep it in line with the first two.
Is Pushing Daisies the best of a pretty average bunch of pilots this fall?
I don't think so. I loved Chuck, I think it's fantastic, it is already on my TiVo. So is Sarah Connor Chronicles, and Reaper is fantastic
Matt Richenthal is the Editor in Chief of TV Fanatic. Follow him on Twitter and on Google+.