Simply out, Chace Crawford love New York. And need you ask the Gossip Girl star why?
His face is on billboards all over town alongside the rest of the gorgeous cast in this soap set in the exclusive world of upper East Side children of privilege.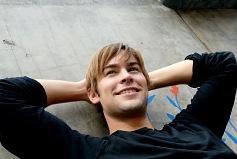 The handsome actor portrays Nate Archibald, a latchkey teen with platinum credit cards but who drowns his sorrow in Champagne, pot and limo rides to hot spots. As Crawford jokes: "The research for this show was rough."
The 22-year-old admits he hung out at certain upscale nightspots a little bit growing up, but knows little about that life; he showed a rough cut of the pilot to the kinds of kids it portrays, and then asked them: "Is this even remotely real?
And they said, 'Yes, it is.'"
Crawford's character is at the center of the show's main triangle, a tug-of-war between onetime BFF's Blair Waldorf (Leighton Meester) and the mysteriously disappeared and just-returned Serena van der Woodsen (Blake Lively).
"Nate is definitely conflicted," says Crawford. "So now I'm working hard on finding a lot of different ways to play conflicted."
He doesn't feel as ambivalent about New York City, however, after a childhood living in Plano, Tex. Chace's mom helped him move into an apartment in Chelsea he shares with fellow cast member Ed Westwick - and Crawford gets to explore the city he fell in love with via the movies.
Click here to read the full interview.
Steve Marsi is the Managing Editor of TV Fanatic. Follow him on Google+ or email him here.