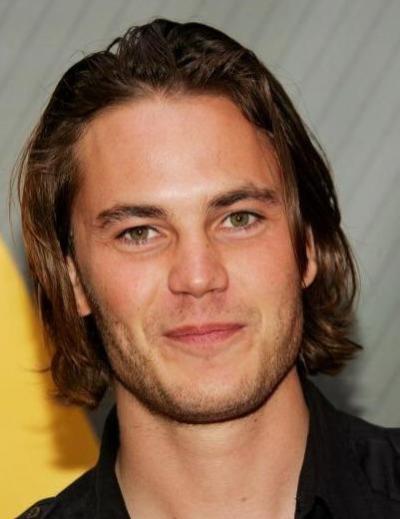 When shooting for Season Two began in July, it was like the first day back to school for the returning cast of
Friday Night Lights
, reports the
Austin American-Statesman
.
Probably compounding that feeling this feeling was the fact that they were shooting at an Austin alternative school.
Though the show only earned two Emmy nominations, spirits remain high on the set.
Taylor Kitsch (pictured, who plays Tim Riggins), returning from shooting an independent film called Gospell Hill, said he was glad to be back and was happy to slip back into Riggins' evolving world of problems.
"It feels funny. It feels good," Kitsch said.
"We are all so lucky."
Taylor, who recently bought a condo in South Austin near the Alamo Drafthouse on Lamar Boulevard, is taking the show script by script.
He said he wasn't bitter about the show's Best Drama snub, but there's no doubt members of the cast were, in fact, snubbed.
"Truthfully, Kyle Chandler really deserved it. He's the spine of the show." Kitsch said. "Hopefully it will give the show more fuel for the fire. It hasn't taken away from the confidence we all have in each other."

Spoken like a true leader on the football field.
Meanwhile, Adrianne Palicki (Tyra Collette), who spent time back home in Ohio and in L.A. with Connie Britton for the summer, says a lot of loose ends get tied up in the first two episodes of Season Two, including the return of the character who tried to sexually assault Tyra.
Palicki says she's getting lots of positive feedback from fans, especially those who appreciate the show's strong female characters.
Gaius Charles
(Brian "Smash" Williams) spent time in L.A., New York and the Caribbean in the summer and shot an episode of
Law & Order: SVU
. He spent the rest of his time off relaxing.
"This is an intense job," Charles said.
So what about Smash? The actor said that after last season's championship win, the player's on top of the world.
"Imagine LeBron James in his senior year of high school. He's exalted like never before," Charles said, adding that the show once fought to establish credibility, but is now getting "respect and reverence" from both critics and supporters.
One of the first scenes of the season involves a college recruiter knocking on Smash's door, which should be interesting to see.
Zach Gilford (Matt Saracen) returned to Austin with his dog Pippen after spending time in his hometown, Chicago, and in L.A., Alaska and Seattle.
Gilford laughed as he explained some recent photos that had circulated from the press tour showing him shaggy of beard and wild of hair.
He was taking some high school kids into the mountains in British Columbia, as he has the last five years, and wasn't sure what his start date would be for shooting. Gilford let his hair grow for the whole summer, and when he was told he'd have to clean up for the press tour, he decided to show some chutzpah and keep it.
Fans will be glad to know, however, that Matt Saracen and his clean-shaven, buzz-cut look will be back when the new episodes return. Phew.
Zach, who you might catch at Z'Tejas, which he planned to hit up early and often for some tasty food, says the first scene he shot for the second season took some adjusting to.
"We were a little rusty and we all felt it," he said.
He was excited to begin shooting some scenes at Matt's house in the afternoon. He promises Saracen will be beset by troubles as always, which is good for the character. As for the always modest and charming Zach Gilford, "I'm just glad to be here," he said.
Matt Richenthal is the Editor in Chief of TV Fanatic. Follow him on Twitter and on Google+.