Below is a brief preview of Season Two of Friday Night Lights, complete with a synopsis of Season One, as compiled by BuddyTV.
Premiere Date / Time: Friday, October 5, 9 p.m., NBC
Time Slot Competition: Women's Murder Club, Moonlight, Nashville, WWE Friday Night Smackdown
Cast: Kyle Chandler, Connie Britton, Zach Gilford, Adrianne Palicki, Jesse Plemons, Minka Kelly, Scott Porter, Aimee Teegarden, Gaius Charles, Taylor Kitsch
Based on the film and the book of the same name, Friday Night Lights was one of the most acclaimed series in the 2006-2007 season.
Despite its critical success, the series was largely overlooked by viewers and failed to garner much in the way of ratings.
Fortunately, NBC recognized its worth and its potential and renewed it for a second season, to air on the new night and time of Friday (fittingly) at 9 p.m.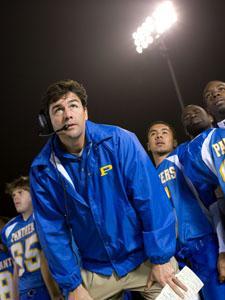 The drama centers on the high school football team in the small, fictional town of Dillon, Texas. Times are hard in Dillon, and the Dillon Panthers, led by head coach Eric Taylor (Kyle Chandler), are the one shining beacon in an often bleak West Texas existence.
Last season, Friday Night Lights ended on an electrifying and bittersweet note, with Dillon winning the state title but Coach Taylor on the way out of town, having accepted the head job at fictional Texas Methodist University.
His wife, Tami (Connie Britton) had just discovered that she was pregnant, and has decided to stay in Dillon until their teen daughter, Julie (Aimee Teegarden) finishes high school.
The new season will begin eight months after last season's finale.
Tami is about to give birth, but Eric is in Austin. Former quarterback Jason Street (Scott Porter) has become an assistant coach for the Panthers.
Matt Richenthal is the Editor in Chief of TV Fanatic. Follow him on Twitter and on Google+.