In anticipation of Season Two of Friday Night Lights, we're taking a deeper look at each of the primary stars, most of whom you probably don't know all that much about - and should! They're awesome!
Yesterday, we profiled the amazing Connie Britton, one half of one of the most realistic TV marriages in history. Today we're profiling Scott Porter, who has garnered much praise in the dynamic role of Jason Street.
Matthew Scott Porter was born on July 14, 1979, in Omaha, Nebraska. He went to Lake Howell High School in Winter Park, Florida, where he was a standout football player and named All-Central Florida at wide receiver.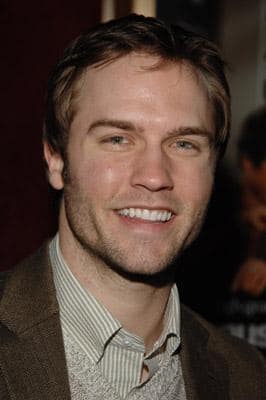 His talents extended well beyond the athletic arena, however. Porter made a living as a professional beat-boxer - a unique musical style popularized by American Idol runner-up Blake Lewis - while trying to break into acting.
After moving to New York City in 2005, Porter played Matthew in the cast of the Off-Broadway hit "Altar Boyz." He can be heard on the cast recording. He also plays the role of Colin Thompson, the more visible part of the duo that fronts the fictional band PoP! in the movie Music and Lyrics.
Scott Porter is scheduled to play Bobby in the remake of Prom Night and Rex Racer in Speed Racer (2008). Other TV credits of his include The Bedford Diaries, All My Children and As the World Turns.
On Friday Night Lights, Scott Porter has won wide acclaim for his portrayal of the star quarterback, Jason, who feels the weight of the world on his shoulders at the beginning of the first season, but then suffers a severe injury.
By the end of the year, all he wants is a life that makes some sense. We all feel for Jason and appreciate the incredible job Scott does. Can't wait for more!
Matt Richenthal is the Editor in Chief of TV Fanatic. Follow him on Twitter and on Google+.