With the Season Four premiere of Grey's Anatomy just days away, let's see who won the second to last Insider Caption Contest before new episodes begin!
While Mcdreamy's lover submitted a number of classics, we ultimately went with an entry from die_lexie_grey. The winning reply is under the pic below. Scroll down the page to read the full list of responses. Congratulations, thanks to all for playing, and good luck in next week's contest!
As always, we appreciate all of your help in making Grey's Anatomy Insider the top Grey's Anatomy site online. We're very grateful for all your support!
Here is this week's Caption Contest image: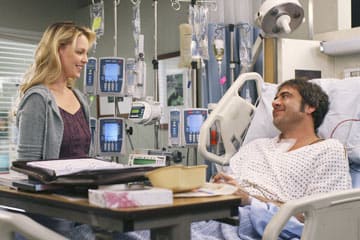 Denny: I've been meaning to ask you... do you have feelings for George?
Izzie: Not the way you mean. He's my best friend.
Denny: So, nothing has ever happened between you two?
Izzie: No! I think I had to be really drunk, totally depressed and completely unconscious for THAT to happen! Or maybe just desperately horny.
Steve Marsi is the Managing Editor of TV Fanatic. Follow him on Google+ or email him here.