Hayden Panettiere is almost through with the Heroes world tour and filming on season two will begin again shortly.
First, however, the young actress spoke with Hollywood.com about the show's awesome first season DVD, among other topics...
Hollywood.com: What special extras did you get involved with for the DVD release?
Hayden Panettiere: There are commentaries and there's a ton of deleted scenes, which I didn't knowingly participate in. There's 50 deleted scenes. And it's incredible looking back at it now, and actually--I'm not going to lie, I'm watching it right now, and it's incredible how many scenes you just totally forget were deleted. And you're like "Oh, that's where that scene went."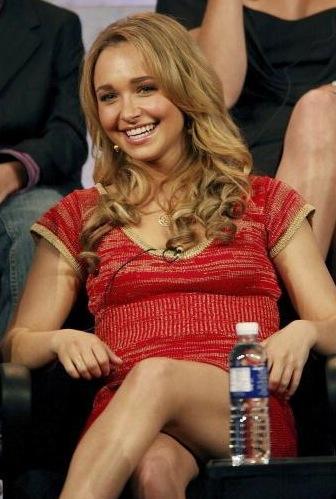 But it's really fun to watch because we really had limited time. It's only an hour show, and especially with the pilot and stuff you have such limited time to explain all this information that you need to know before you can really get into the gut of this show. Which is why we have the two-hour pilot [on the DVD]--it really explains other characters.
HW: When you said you're watching it right now, does that mean it's running on your TV set right now as we speak?
HP: It's running on my TV set right now, and I'm yelling at my brother (Jansen Panettiere) as he's turning the volume up.
HW: The DVD's loaded with a ton of bonus features. What would you recommend people starting with? What's your favorite?
HP: I would say it would depend if they've seen the show or not. If they haven't seen the show, I would say watch the pilot, the two-hour pilot. I would say watch that first and then maybe the deleted scenes. I'm having fun watching the deleted scenes, but that's probably only because I know what was deleted and what wasn't. There's some great stuff. There's some goofy commentary.
Like, I'm talking goofy commentary. I mean, I think I remember my commentary and I think they probably edited it, but everything on it is great. I love DVDs when you get to go and look at the extras and find certain things, but people have fun with it.
HW: When Season 2 picks up, where will we find Claire, and how do we build up to this new relationship with the new love interest, West (Nick D'Agosto)?
HP: It's four months from where we left off last season and Claire's really trying to be, just trying to get in touch with her inner teen self once again. She hasn't given that up and I think it'd be a sad thing if she did. And she's struggling to fit in, but not stand out and obviously they're still hiding and running from these people. And West - you know, I think the funny thing about Claire is that, as much as she has that beautiful naivety about her and as sweet as she is, she does have a spitfire. She has that sass about her so it's fun to watch her, but I think when she meets West…I mean, you guys will see.
Follow our link to read the full interview with Panettiere.
Matt Richenthal is the Editor in Chief of TV Fanatic. Follow him on Twitter and on Google+.