Del Rey, an imprint of Ballantine Books at the Random House Publishing Group, has announced plans to publish a novel based on Heroes.
"Heroes: Saving Charlie" will be authored by Aury Wallington and will be an original novel based on the Hiro Nakamura (Masi Oka) and Charlie (Jayma Mays) relationship.
"One of the more memorable relationships in Season One was Hiro's first love, the waitress Charlie. We were as smitten as Hiro by that story and seized the chance to tell the full adventure of Hiro's six months in the past.
Aury Wallington was hand picked by the writers of the show for her brilliant voice for these characters. The novel is a welcome addition to the Heroes family," said Tim Kring.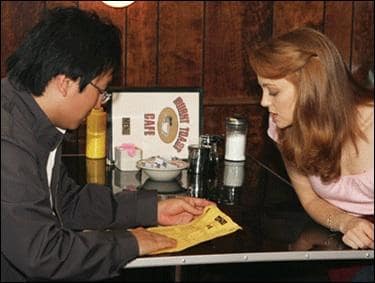 The book - written with the full cooperation of the show's creators - will tell the story of Hiro and his mission to save Charlie from being brutally murdered by Sylar (Zachary Quinto).
While fans of the television series were given only a brief glimpse into Hiro and Charlie's relationship as it grew into love over six time-changing months, their history is told here with the depth and insight that only a novel will allow.
Del Rey celebrated the announcement of its Heroes book at the 2007 San Diego International Comic-Con by asking fans to help make 1,000 cranes at their booth by the end of the show.
Matt Richenthal is the Editor in Chief of TV Fanatic. Follow him on Twitter and on Google+.