Jack Wagner may be known as a classic soap opera actor, but the veteran of The Bold and the Beautiful has another passion: music.
He played at Mohegan Sun casino a few weeks ago, and CBS caught up with the former Melrose Place star for a few questions:
CBS.com: Are you enjoying being back at Mohegan Sun?
JACK WAGNER: Oh yes. I love this place. We don't see much, the body of river out there. That's it.
CBS.com: How many times have you been to Mohegan Sun?
JACK WAGNER: It's the fourth or fifth time. Maybe five in three years? They must like me.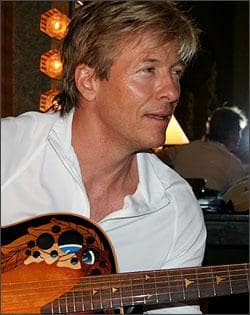 CBS.com: Do you change the show for fans who may have come out for more than one performance?
JACK WAGNER: Yes the first year and a half I didn't. But now I've changed it a bit, added four or five new songs. I rehearsed in L.A. a couple nights before we came out here. The first night we did like 5 hours of rehearsal, and then the next night it was 2 hours. It just falls into place.
CBS.com: Are the new songs from past albums or did you just write them recently?
JACK WAGNER: I brought a new tune in from my second album that I used to love; that is really cool and I'm excited to do that again. And I brought a song from two albums ago which was fun. So I'm starting the show off with these songs and it just rocks. Also the show's changing with a little more electric guitar, and I added a Phil Collins tune and that's different.
CBS.com: Since this venue is an open area is it hard to conduct a sound check?
JACK WAGNER: You can only give them a little taste. Because at Mohegan Sun it's an open area and they can see and listen. But hopefully they will hear the sound check and want to come back for more.
Matt Richenthal is the Editor in Chief of TV Fanatic. Follow him on Twitter and on Google+.