Forget about simply having her cake and eating it, too: Days of Our Lives actress Julie Pinson  is also adept at making yummy, gorgeous tortes.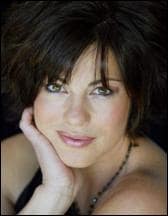 "I'm not much cooking-wise, but I'm a huge baker. That's my thing. I love to bake. I decorate cakes as a hobby," Pinson said to
Soap Opera Digest.
"I was so happy I was able to make a cake for a friend's baby shower a few months ago. That makes me really happy."
Pinson got into the art of baking via her late aunt Virginia.
"She was really fun. She used to decorate cakes for a living," said Pinson. "When I was a kid, she would take me to cake shows. Things like the Pillsbury Bake-Off and shows like that. That's how I got interested in it. And when I would go over to her house, she'd always be making cakes. She taught me how to make a rose and how to pipe icing; that kind of stuff. I loved it."
The actress sees her time in the kitchen as more than just making meals.
"Baking and decorating cakes is kind of my art," Pinson said. "The good thing about this kind of art is you get to eat it and it tastes really good. That's what attracted me to it in the first place. It's because I love sweets so much."
Julie even has a specialty cake that always impresses people when she makes it.
"When I went on The Martha Stewart Show last year, I showed her how to make my Tiffany box cake. I guess that's my specialty, since I did it on Martha's show," said Pinson with a chuckle about her aqua-iced concoction. "The icing is fondant, which is like an edible play dough. You roll it out and you can form it and make little characters out of it. It's like marzipan. It's made out of sugar and stuff."
Matt Richenthal is the Editor in Chief of TV Fanatic. Follow him on Twitter and on Google+.