Justine Cotsonas is fairly new to As the World Turns. She recently spoke to Soap Opera Digest. Here's the interview: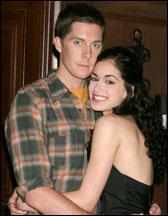 Soap Opera Digest
: What other jobs have you had before this?
Justine Cotsonas
: Actually, right now I'm a live-in au pair, so I'm doing both things at the same time. Before this, I was a hostess at a research marketing facility where they held focus groups. I graduated in January and then I booked a commercial, and then this.
Digest: What commercial?
Cotsonas: It's an international spot for the new Motorola RAZR2. It was kind of amazing because it was directed by Michel Gondry, who directed Eternal Sunshine Of The Spotless Mind. That was my first professional job — it was the craziest thing ever. I feel very lucky.
Digest: What was he like?
Cotsonas: He has this huge imagination. I think I had a little crush on him [laughs] — a cute French man and he's a genius. He was very focused during the shoot. It was a commercial, but it was almost like a film production, and all of the special effects were done on set. It was a very crazy, creative world. I didn't interact with him that much, but he was a wonderful man, very nice. He gave me a big hug and a kiss on the cheek when I was done and I giggled and blushed.
Digest: What was your family's reaction when you got the As the World Turns job?
Cotsonas: Oh, my gosh! They've always been extremely supportive ever since I was little, but it was such a weird time. My second callback was the day after my birthday and the day of my yaya's — my Greek grandmother — funeral. I actually rushed from her funeral on Long Island to my callback. I held myself together somehow. I thought, "I did the best I could. Now it's time to go home and mourn."
It was really kind of surreal. My dad had driven me to the studio and literally four minutes after I left, I got the call that I booked it. And my dad started screaming. He hit the ceiling in the car. Everybody was screaming and crying, so happy. My mom told everybody; my grandparents told all of Florida, I'm sure.
Matt Richenthal is the Editor in Chief of TV Fanatic. Follow him on Twitter and on Google+.