Previously, our Pushing Daisies spoiler section took a close look at episode two, "Dummy."
Along the same lines, here are a few details on episode three of the upcoming season, entitled "The Fun in Funeral." Read on if you wish to learn more:
The aunts (played by Swoosie Kurtz and Ellen Greene, pictured) will be folded back into the story during this hour. Here's how: Chuck follows through with the threat she made in the pilot by baking anti-depressants into her aunts' food (i.e. Ned's pies).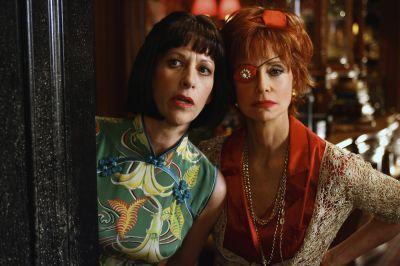 Olive (Kristin Chenoweth) delivers one of these treats to the sisters and stumbles upon Chuck's plan. This provides Ms. Snook with dirt on Chuck - because her aunts think she's dead - so the question becomes: will Olive use it against her nemesis to lure in Ned?
Also, Ned and Chuck speak to a dead man named Donald Funk, who worked at the same funeral parlor as Lawrence Schatz, the man they find out died one minute after Ned brought Chuck back to life.
Donald and Lawrence acted together in stealing flowers from graves and jewelry from the bodies of clients of the funeral home.
Matt Richenthal is the Editor in Chief of TV Fanatic. Follow him on Twitter and on Google+.