Wanna know what happens this fall on Guiding Light?
Our thanks to Soap Central for giving up this soap opera insight into various characters...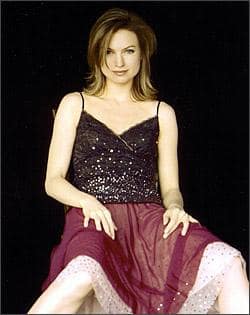 Cassie/Josh
: Cassie (
Nicole Forester
, pictured) decides she wants to bring a new child into her relationship with Josh (an illness has left her infertile). This story line brings Edmund Winslow back to Springfield.
Dinah/Mallet: Dinah works to overcome her challenges. The "new" Dinah will make a fateful choice that changes her marriage to Mallet forever.
Gus/Natalia/Harley: Gus (Ricky Paull Goldin) attempts to create a family for his son and Natalia. But Alan, of all people, is standing in his way.
Reva/Jeffrey: Reva and Alan leave town and return with a shocking secret. Look for all of this to come to a head with the September 18th release of the book "Jonathan's Story."
Billy/Lizzie: A member of Billy's family gets into trouble and this oddball pairing faces their first test of their new alliance.
Ashlee/Coop: Ashlee (Caitlin Van Zandt) and Coop finally get together. The mayoral election of Buzz versus Doris election draws near. And Ashlee learns something about her past that could ruin the Cooper family.
Rafe/Daisy: Daisy and Rafe's romance reaches a whole new level. A crisis this fall sets off an emotional bomb in their families.
Cyrus/Marina: Cyrus reveals to Marina his plans to steal from Alexandra and the Spaulding family. Cyrus wants Marina to run away with him to start a new life, but the plan has dire consequences for Marina. Harley (Beth Ehlers), still hurting form Gus's betrayal, must step in to help Cyrus save Marina in a sticky situation.
Matt Richenthal is the Editor in Chief of TV Fanatic. Follow him on Twitter and on Google+.