Tina Sloan isn't leaving the love life on Guiding Light to the younger generation.
She recently spoke with Soap Opera Digest about the developments in the world of her character, Lillian: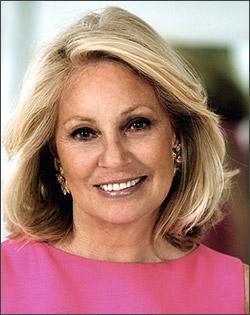 Soap Opera Digest
: Do you like being in a romantic situation on-screen again?
Tina Sloan
: "Isn't it adorable? It's just wonderful. Especially with Buzz [
Justin Deas
]. I have to tell you this one funny story when I first kissed him. You know Lillian has not been kissed in probably 15 years! When he kissed her, I had lines. I just couldn't remember them, so I said, 'Oh, my [laughs]!' And they took it and bought it instead of my lines which were, well, I don't know what they were.
I was so Lillian at that moment that I knew she wouldn't be able to talk. It was just right. I thought it was hysterical. The producers, everyone was just howling. I could hear them all!"
Digest: What's it like working with Justin?
Sloan: "He's such a joy. You know, I've been away for a month. My husband had a big birthday and we all went to Europe. The whole family. So I haven't been there [for a few weeks]. I think they will continue the romance. They have to love it. Well, I know they love it."
Digest: Where'd you go?
Sloan: "We were in Scotland and we went for my husband's birthday with all his grandchildren and our children and then we went down to Spain to Bilbao to see the Guggenheim [Museum], which was fabulous. Then we went to visit some friends in the south of France. And then went back to Scotland for another friend's 60th birthday!
It was 27 days. It was long! And I'd been in Turkey for a few weeks before that, so I've overdone it. I don't like to go that much, but you know, it happened. Except I wanted to do my Buzz story and they really wanted to continue it right then, but my husband had planned it for four years so I could hardly say to him, 'No, darling. I'm not going, I'm kissing Buzz!'"
Matt Richenthal is the Editor in Chief of TV Fanatic. Follow him on Twitter and on Google+.