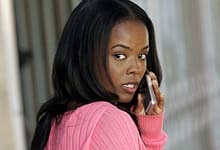 Dana Davis made a powerful impact on Heroes last week.
Afterwards, TV Guide caught up with the actress that portrays Monica Dawson and asked her about that cool WWE move...
TVGuide.com: After the tomato-carving and wrestling move, what else might we see her do soon?
Davis: Everything! Monica is so badass. It's cool to think of superpowers, like invisibility and mind-reading, but if you really think about it, God has blessed human beings with some serious gifts and abilities. Most of us "normal" human beings will never be able to slam like Michael Jordan or run like Carl Lewis, so imagine a human who can do it all. How exciting!
The sky is the limit with Monica. Lots of fans are wondering if she'll watch any martial-arts movies, and the answer is yep! She'll be doing lots of martial arts and even a little parkour action, to give just a few hints.
TVGuide.com: Was having Lt. Uhura (Nichelle Nichols) as your "grandmother" icing on the cake?
Davis: It was more icing on top of icing. I remember punching Greg Beaman, one of our producers, when he told me the news: "Shut up! No way!" I was so excited to work with her. Huge Fan. Everybody is.
TVGuide.com: How long will Monica be in New Orleans? Stuck there for a bit?
Davis: Stuck there for a bit, for now. Monica is making her mark in the city and bringing back lots of hope to a community very much in need. But don't worry, the writers have this awesome way of taking all these storylines and bringing them together. Just like they did in Season 1.
TVGuide.com: But might she still cross paths with original Heroes besides Micah?
Davis: Monica does run up with Sendhil Ramamurthy's Mohinder and Ali Larter's Niki — not to give away too much — so she's not alone down there in the Big Easy. And like I said, the Heroes always find a way to unite somehow. It'll be fun to see how it all plays out.
Let's just hope Monica stays clear of Dania [Ramirez]'s character, Maya. But Monica's pretty upbeat — I'm sure she can keep her happy. She'd better! Please nobody make that girl cry!
Matt Richenthal is the Editor in Chief of TV Fanatic. Follow him on Twitter and on Google+.