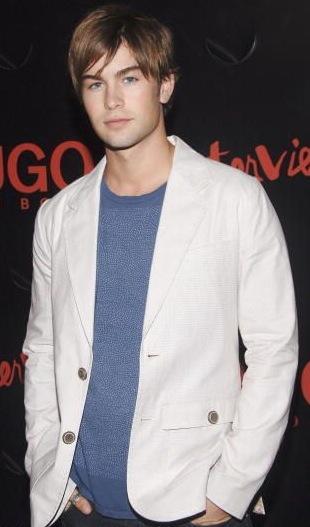 Before we tune in for the fourth episode of
Gossip Girl
tonight, we were excited to come across this interview of Chace Crawford by
TV Guide
.
Let's see what the hunk has to say...
TVGuide.com: It's funny to see this teenage hierarchy in Manhattan, because I live in New York, but I never went to private high school here. Do you think the attitudes and some of the behavior is accurate?
Crawford: There's definitely some degree of it being what goes into making a television [show], but I think it's accurate in terms of the family pressure and the social structure of it all. Are there characters like Chuck [Ed Westwick] out there? [Laughs] I don't really know.
But there are people in that vein of the whole Ryan Phillippe/Cruel Intentions type thing, and it's great. I think Blair Waldorf [Leighton Meester] is one of the stand-up characters on the show. I've talked to some people who say the story is a mirror image of some things that do go on.
TVGuide.com: There are always going to be cliques, so even if it's taken to an extreme with someone like Chuck, it's still relatable at times.
Crawford: There are some corruptive individuals out there. I've heard that kids do take limos when they're freshmen, and they're not chaperoned, the parents are absent. Teenagers aren't as dumb as everyone thinks. Especially in today's society — it gets worse in terms of the partying early on. I don't think it's too over-the-top in that sense.
TVGuide.com: Now, obviously the biggest storyline is all the romantic turmoil. What can we expect to see between Nate and Serena [Blake Lively]?
Crawford: Ohhh, it's all unexpected. They're putting the brakes on that right now. He definitely has issues with Blair and mainly with his father, but I think it's going to come back full circle. He ultimately loves this girl. He loves both of them, but they represent completely polar opposite things.
He loves Blair, he's known her for years, but she also represents the negative side to his family, and Serena represents something else. She possesses something he wishes to obtain — not only to be with her, but to have the freedom she has in her life. I think he's having trouble breaking out of where he is.
TVGuide.com: Will Nate and Dan [Penn Badgley] become friends even though they both have their eye on Serena?
Crawford: I like the possibility [of that]. It's not going there [right now], but it's always open. I think it's going to happen.
Click here to read the full interview.
Steve Marsi is the Managing Editor of TV Fanatic. Follow him on Google+ or email him here.