The season premiere of Friday Night Lights is just two nights away and TV Guide sleuth Michael Ausiello has all the latest news, spoilers and rumors. Here's what he has to say in his latest column ...
The new season of Friday Night Lights starts tomorrow and it's imperative you convince everyone and their brother to watch this show. And if they don't do so willingly, don't be afraid of blackmail via incriminating photos and videos.
Violence is also acceptable, ig only as a last resort.
This may seem excessive, but the show is on life support and desperate times call for desperate measures. I just screened Episodes 2 and 3 and I can tell you, in no uncertain terms, that this show is as good, if not better, than it's ever been.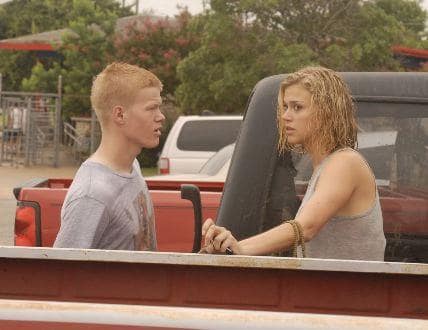 I'm even coming around on that controversial and dark plot twist.
The reasons I've come around on the plot twist involving Landry and Tyra
:
The producers seem committed to playing the repercussions of it.
It has facilitated the long-awaited merger of Landry and Tyra.
It has exposed Jesse Plemons and Adrianne Palicki for their amazing work. The chemistry between these two will Blow. You. Away.
Next, there are at least two major developments in the second episode of the second season, airing October 12. One of them involves an old couple (they're breaking up), and the other pertains to a new couple (they're doing the deed)!
Also, Tim Riggins spots his onetime neighbor-honey (Brooke Langton, in a cameo) in the arms of another man. And not just any man!
Matt Richenthal is the Editor in Chief of TV Fanatic. Follow him on Twitter and on Google+.