The new edition of American Way magazine features Grey's Anatomy's leading lady, Ellen Pompeo, and her native city of Boston. It's a very cool article, and starts with six things every fan should know about the amazing Ellen Pompeo...
She was born in the Boston suburb of Everett, Mass.
Her fiance, music producer Christopher Ivery, grew up 10 minutes away in Cambridge, Mass., and knew Pompeo's father, though he and Ellen did not meet until many years later in Los Angeles.
Ellen Pompeo returns to visit Boston at least once a year.
Ellen's sister, Maureen Pompeo, still lives in the Boston area and is on the board of The Home For Little Wanderers, a charity that provides adoption services and shelter for children seeking protection from abuse.
The acclaimed actress has received a Golden Globe nomination for her role as Meredith Grey, the title character on Grey's Anatomy.
Pompeo still loves the city, especially its history and green spaces.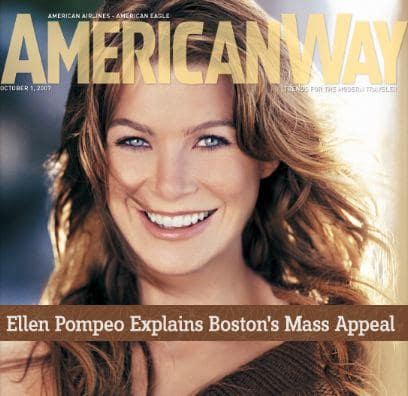 In fact, Ellen Pompeo has 13 other things she'd personally love to tell you about Boston. Follow the jump for her extensive guide to a great city ...
ONE: BLESSED ARE THE CHEESE MAKERS
. I grew up in Everett. It could be considered like Brooklyn. It's just a suburb of Boston, Five minutes over the bridge. When I grew up there, it was a very blue-collar, working-class Irish-Italian neighborhood. There is a great market there called Regina, where you can get great salami and cheese and great imported Italian things.
TWO: PRESERVATION IS GOOD. I've been to a lot of places in this country, and there's no other place where you feel history as strongly as you feel it in Boston. On the Freedom Trail, you can find all types of historically significant stops. It runs through Beacon Hill, which is a really beautiful part of the city. I've been everywhere on the Freedom Trail at some point in my life. You follow it, and it takes you through the Boston Common and by the Old State House and past the Old North Church. The Granary Burying Ground is also right on the Freedom Trail. That's where Samuel Adams and John Hancock are buried, and Benjamin Franklin's parents too.
THREE: GREEN IS ALSO GOOD. Boston Common and the Boston Public Garden are sort of side by side. The Common is almost like the big lawn in Central Park, whereas the Public Garden has more flowers and beautiful willow trees and ducks in the ponds and swan boats. That's just glorious in the fall and summer and spring. I guess it's also nice in the winter â€" if you like the cold.
FOUR: THE BEST PLACES TO SPEND A DAY OUTDOORS IN THE FALL ARE LESS THAN AN HOUR AWAY. In October, the two best places to go to are the Arnold Arboretum and Walden Pond. Walden Pond is in Concord, Massachusetts, which is a 40-minute drive from Boston. It's a great day trip. I spent a lot of time there as a child. My brother-in-law would take me and my brother and our friends there for nature walks all the time. We came from the suburbs, so it was great to spend a day just walking through the woods and having quiet time. I developed my appreciation for nature there. It's one of my fondest memories.
Henry David Thoreau lived at Walden Pond, so there are plaques all throughout the woods, marking places where Thoreau was â€" where he had his tent and where he liked to nature writings are about his time there. The Arnold Arboretum is about 10 or 15 minutes away from Harvard. It has a beautiful trail through the woods. If you go within the right few weeks in the fall, it's beautiful. The colors are amazing. You will just be completely surrounded by trees â€" absolutely gorgeous.
FIVE: SPEAKING OF HARVARD, IT'S A GOOD PLACE TO VISIT. The grounds of Harvard University are so beautiful to walk around, and the Harvard Book Store is one of the last great independent bookstores. It's right there across the street from the university.
SIX: HAMBURGERS TASTE GREAT. Just ask Matt Damon. Right beside the Harvard Book Store is Mr. Bartley's, a really old-school, greasy-spoon hamburger joint. It has absolutely the best greasy burger you will ever have in your life. A really nice afternoon would be to go have a burger there and then go to the bookstore next door, pick up a Harvard T- shirt, and walk the grounds of Harvard, particularly in the spring or in the fall, when all the students are starting.

SEVEN: YOU CAN BUY STUFF ON NEWBURY STREET. My favorite shop is one called Louis Boston. I guess it would be sort of the Barneys of Boston. It's just a gorgeous retail store in an old, historic building. They carry men and women's clothing, and they have a nice little espresso bar there, as well as a nice, small restaurant.

EIGHT: STEALING IS BAD BUT INTERESTING. The Isabella Stewart Gardner Museum is where one of the largest unsolved art heists in history took place. It was in the '90s. There were 13 significant pieces of art taken from that museum. No suspect has ever been brought into custody, and nothing has been recovered. It happened on St. Patrick's Day. It's the perfect night to pull off some heist in Boston, because all the police are at the St. Patrick's Day festivities.

NINE: YOU'VE GOT TO HAVE A PLACE TO SLEEP. There was an old Ritz hotel on the first block of Newbury. Just recently, they closed it and turned it into another hotel. Then they built a more modern Ritz-Carlton across the street from the Public Garden. I love the new Ritz. It has a great gym, a Sports Club/LA, there.
TEN: BOSTON HAS BEACHES. AND BIRDS. Revere Beach, although it is old and historical, is dirty and not very nice. But not too far away from there is a beach called Nahant Beach, which is actually where my sister lives. It's like a little island. There is only one road in and one road out. My sister and brother-in-law would take us there as kids, and we would other beach in Nahant that is very famous; it's called Forty Steps. There's no sand, just rocks. There are rumors that parts of the movie The Birds were filmed there.
ELEVEN: BOSTON HAS GREAT PLACES TO EAT. There's a restaurant called KO Prime, on Tremont Street on the Freedom Trail, that is great. It's a tiny place. There's another restaurant, Via Matta, right across the street from the Ritz. It's right around the corner from the Hermès store, and it has delicious Italian food.
There is a chef in Boston named Ken Oringer who owns three restaurants. One of them is in the Eliot Hotel. It's called Clio and is amazing. Downstairs, he has a tiny sushi bar called Uni. There are only about six stools at the sushi bar and probably only tables. It is delicious. Everything is super, super fresh.
The parents of a friend of mine own Durgin-Park, which is a traditional New England place. Kelly's is a great fast-food seafood place. They have great clams and lobster rolls. They are famous for their lobster rolls. It's, like, a $40 lobster roll, the most expensive lobster roll you will ever have.
The Daily Catch is a place in the North End where they serve you calamari in a pan. It's pretty much only calamari and pasta â€" delicious.
TWELVE: ITALIANS MAKE GOOD DESSERTS. So does Ben & Jerry's. In Little Italy, there are great pastry shops. My boyfriend, Christopher, thinks Modern Pastry Shop is the best pastry shop in the North End. When I am there, I always take a walk up Newbury Street and hit the Ben & Jerry's. That's the best stop on the street, as far as I'm concerned.
THIRTEEN: SHE HAS VERY, VERY STRONG ARMS. There is a quite famous place â€" a place where I used to work, actually â€" on Newbury Street called Daisy Buchanan's. I was just 18 when I worked there. It is a tiny, tiny little place in a basement. All the Red Sox players and the Bruins players and the Celtics players go there after games.
That was the hardest place in town to be a cocktail waitress. It was just packed, and there would be so many people in there that you couldn't hold the tray in front of your body. You'd have to suspend the tray completely over your head. They used thick glass mugs, so it was heavy. And you had to hold the tray over your head while wearing high heels and a miniskirt. You have to wear high heels because all the guys in there are so tall because most of them are basketball players or football players. You develop great shoulder muscles, though.
Steve Marsi is the Managing Editor of TV Fanatic. Follow him on Google+ or email him here.