Jes Rickleff may have won over Bret Michaels on Rock of Love. But that doesn't mean the pink-haired hottie is gonna change any time soon.
"My personal life hasn't changed a whole lot. I'm still me," Jes told VH1. "I just have a ton of strangers coming up to me thinking that they know me. I know someone called me a snot because he approached me while I was eating. I asked if he could wait till I was done and he said, 'That's pretty snotty of you.' I said, 'No offense, but I'm still a real person. If I want to eat my food in peace, that's what I'm going to do.' It's weird."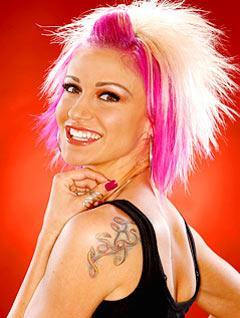 She actually makes a good point. And sounds well-grounded below:
"I stuck to my morals from day one. I refused to portray myself in that manner. I'm not going to sit there and show affection to a man who's showing affection to 20 other women.
I wouldn't do that in front of chicks to make them jealous. I don't play that game in my life and I refuse to play that game on TV."
Matt Richenthal is the Editor in Chief of TV Fanatic. Follow him on Twitter and on Google+.