In the new issue of Us Weekly, Lauren Conrad reveals her secrets on how to spot a loser. He wears gold chains, sports circa 1997 blond frosted hair and goes by the name of Spencer Pratt. Just kidding. Well, he is - but Lauren doesn't say that. At least in this particular magazine article. She probably does in real life!
If you ever thought Lauren Conrad was too picky about guys, maybe it's due to some of the pickup lines that The Hills star is subjected to!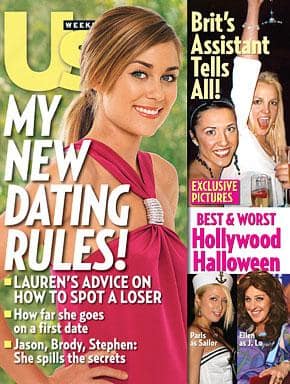 Some of the worst lines LC has heard?
"I had a guy come up to me and ask for a Band-Aid and I said, 'No, I don't have a Band-Aid.' Then he said, 'You're supposed to ask me why,'" she says.
When Lauren Conrad - super friendly and a little naive - played along and asked, the pickup artist replied, "'Because I scraped my knee when I fell for you'... I didn't understand it. I was like, 'Did you really fall?'"
Matt Richenthal is the Editor in Chief of TV Fanatic. Follow him on Twitter and on Google+.