With the season finale of I Wanna Be a Soap Star airing tonight, judge Mary Beth Evans couldn't help but be excited over the opportunity the winner will enjoy.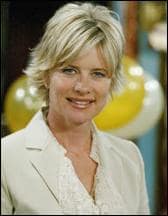 "Yes! The winner is getting thirteen weeks on
Days of our Lives
. Isn't that wild?" the actress said. "I think actually that from previous years, there are winners that are still on (the respective shows)."
There sure are, as Soapdom.com reports.
Alec Musser, season 2 winner, who plays Del Henry on All My Children is still on AMC, however skimpy his appearances are of late.
"I know for me, when I started out, when I was auditioning, there were no other avenues," said Evans. "There were no reality shows. There were no other ways to get in other than to simply audition. So this is really exciting. What's very cool, too, is that they have this opportunity to show what they can do more and more. It's not just one audition – it's ten!
And that's really great. Plus, they get to take notes from the people making decisions about it, which can only help (their growth as actors.) It's been an interesting experience."
Interesting, yes. But at first, Evan's hesitated. For her, being a judge meant voting people off and she was not fond of that process.
Click here to read the full article.
Matt Richenthal is the Editor in Chief of TV Fanatic. Follow him on Twitter and on Google+.