Private Practice Spoilers For This Evening
Steve Marsi at .
Tonight on Private Practice, Dr. Charlotte King is fed up with insomnia and decides to do something about it, while Cooper suspects foul play in his patient's case and Naomi finally goes on a date. And that's just the beginning.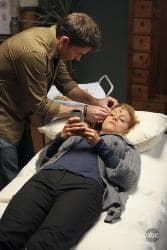 Below is a greater list of developments and
Private Practice
spoilers from tonight's new installment of the ABC hit show, titled "In Which Charlotte Goes Down the Rabbit Hole," courtesy of
BuddyTV
.
This evening's "In Which Charlotte Goes Down the Rabbit Hole" begins with Charlotte - the bad-ass doc at St. Ambrose - turning to Pete Wilder, the alternative medicine "quack," hoping he can rid her of raging insomnia.
As she finally comes to grips with her divorce, Naomi begins to open herself to new people.
Naomi takes her first step to putting Sam Bennett behind her by agreeing to go out on her very first date since she was still in college.
Meanwhile, when a young teen comes to the clinic due to a dislocated arm,
Cooper
finds himself confounded beyond the girl's physical problem. He believes her injury is a result of abuse, not just a simple accident.
Finally, Addison (Kate Walsh) and Naomi encounter a woman who asks them to keep her child-bearing capacity a secret from her husband.
Still ahead on Private Practice, in the following episode, "In Which Sam Gets Taken for a Ride," Addison and Dell help deliver a woman's fourth child into the world.
However, the woman refuses to accept her newborn child after learning that it's a boy. She is distraught as her husband hardly lifts a finger to help with their kids.
One last minor spoiler: Addison certainly has a full plate in this installment, as another woman is in labor who isn't faring too well. Elsewhere, one of the male doctors spends the day with a police officer and winds up at a crime scene.
"In Which Sam Gets Taken for a Ride" is scheduled for November 14 while "In Which Charlotte Goes Down the Rabbit Hole" airs tonight at 9 p.m.
Steve Marsi is the Managing Editor of TV Fanatic. Follow him on Google+ or email him here.