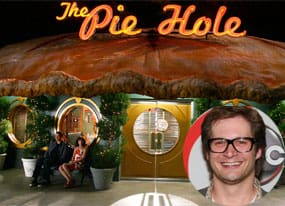 Many, many thanks to Kristin from
E! Online
for the following coup: she tracked down
Pushing Daisies
creator Bryan Fuller and asked him to personally answer a few
questions from fans
.
Here are a few samples, full of helpful Pushing Daisies spoilers from the man behind our favorite new show...
Q: Will Paul Reubens be back on Pushing Daisies? I know they recast his original role, but I'm hoping he will show up on the series later on. He's great.
Bryan Fuller: Paul is back on the set this week, and he's fantastic. The crew loves him, and he keeps everything light and easy. We introduce Paul's character in the seventh episode to air, and you'll see a lot more of him in the back nine episodes.
Q: Kristin Chenoweth and Ellen Greene singing "Birdhouse in Your Soul" was my favorite part of this week's Pushing Daisies. Any chance we'll get some more singing in upcoming episodes?
B.F.: I'm so glad you like our minimusical numbers. The next time we have singing will be in an episode called "Smell of Success" that I believe airs in November and features Ellen Greene covering Cat Stevens.
Q: I love, love, love Lee Pace and Pushing Daisies. But I am a teensy bit confused. Does the show take place back in the day or is it just quirky like that? I adore this show and am sooo glad it got picked up for a whole season!
B.F.: We exist in Pushing Daisies time, which is essentially now with a caveat or two. We want the show to have a timeless quality to maintain the fairy-tale feel, which is why you'll see cars from the '60s and '70s mixed in with modern-day jobbies like the Prius.
Q: Does Chuck's touch not count when she touches Ned's clothes? My heart just about stopped when I saw her touching his clothes.
B.F.: The touch thing has to be flesh to flesh. So, Chuck can hold Ned's hand or dance with him or even kiss him as long as there is some kind of barrier preventing their skin from connecting.
Matt Richenthal is the Editor in Chief of TV Fanatic. Follow him on Twitter and on Google+.