Thorsten Kaye, once again, has talked to Soap Opera Digest about the chances his co-star, Cameron Mathison, has on Dancing with the Stars...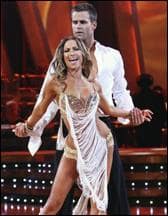 What did you think of this week's competition?
Kaye: This week was hard for me because Cameron didn't call me for help. He called Susan Lucci (who gave advice to Cameron on air Monday night). I don't want to make this about myself because, obviously, it's his moment. But what shouldn't get lost among all the spandex and sequins is that in the end, what you have is your friendships.
That's something that's understood in the dance world and it's not something that Cameron understands being a non-dancer. I could understand calling Susan from an actor's point of view. But from a dancer's point of view... you know who you call. It was a little upsetting to me.
How was Cameron's dancing this week?
Kaye: Let me tell you something. I watched him and I wanted to skinny dip in his eyes. That's what one of the girls said in an interview a couple of weeks ago. "I just want to skinny dip in his eyes!" I'd probably wear a bathing suit just for protection.
What advice have you given him for next week?
Kaye: I'm going to be honest with you: I think maybe he should call Lucci. I'm an angry little gnome. If you need to choose the big star from the show to work with, then do it. I'm hurt right now. Maybe I shouldn't be giving this interview to you in anger, but that's where I live right now.
What's your prediction for Cameron in the long run?
Kaye: I think he may win this thing, and that would be awesome. I really think he's doing a great job. It looks like he's having fun.
We agree! This All My Children star has a serious chance at victory.
Matt Richenthal is the Editor in Chief of TV Fanatic. Follow him on Twitter and on Google+.