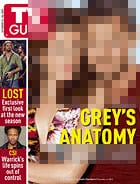 Presumably,
New York Magazine
wryly observes, a magazine about TV would be aware that one of the reasons people like TV is surprise - the twists and turns of their favorite shows.
While some love their Grey's Anatomy spoilers (for reasons unknown to us), most would like to remain at least somewhat in the dark.
It's a little surprising, then, that TV Guide decided to reveal a huge Grey's Anatomy spoiler on its new cover. Actually, that's too generous. They flat-out gave away a major development.
It'd be one thing to spoil it inside the magazine. This site won't show the full cover until after the jump. But to give away the plot on the cover â€" the only part of TV Guide many people might see - seems a tad ridiculous. But what's done is done.
If you like, follow the jump to see the cover in question. We've even kept it out of our Grey's Anatomy photo gallery so as not to give it away to fans ...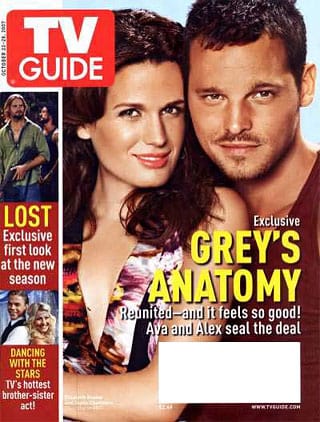 Presenting Alex and Ava! Or is it Rebecca Pope? Whatever you call Elizabeth Reaser's character, you can't deny the chemistry she and Alex Karev (Justin Chambers) had last season. Now, it appears she's back to "seal the deal!"
We knew Elizabeth Reaser had signed back on for more episodes of the show, but this spoiler goes a tad far. Nonetheless, we look forward to seeing the drama unfold when Rebecca / Ava / Jane Doe returns to Seattle Grace.
Thoughts?
Steve Marsi is the Managing Editor of TV Fanatic. Follow him on Google+ or email him here.