This is pretty cool. Soap Opera Digest recently sat down with Walt Willey and asked him to comment on numerous All My Children cast members.
Here are a few excerpts from the feature: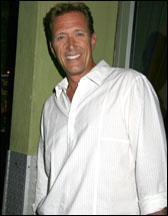 Jeff Branson
(Jonathan): "Love Jeff Branson. I was so excited to get my schedule today and see we have the same three days off; maybe we'll finally get to go camping, which we've been talking about. He and I were thrown together in the Lily storyline and he was one of the only people who was willing to help me with that because Jack had a valid point: Why would any decent father let his girl run off with a murderer?
But of course, if you let that comment go, there's no story. They just kind of made me a crazy person and I would go to Jeff and say, 'I don't know what to do with this stuff. Every fiber of my being is saying, 'I can't say this line.' He would gladly give up lines — 'Then let's kill them, then' — and we really, I think, made it work, so that everybody could keep their head up."
Thorsten Kaye (Zach): "I have indeed become fond of Thorsten Kaye. He's the closest thing I have to a friend in this studio, him and Jeff and Cameron Mathison. I love Thorsten. I've said it before, but Thorsten's the kind of guy who'll take a bullet for you and failing that, he'll raise your kids for you.
He's funny without being goofy. He's almost as funny as I am; maybe in 10 years he'll be as funny as I am. Nah, he'll never be as funny as I am. There's nothing I don't like about him, there really isn't."
Alicia Minshew (Kendall): "We constantly talk about going out, her and [beau] Richie, and we never do it because we're so busy. But that's the kind of friendship I evidently like, because that's the only kind of friendship I have! I don't have any high-maintenance friends. Alicia, I love her, I would do anything for her. We either laugh or cry when we're working together.
Cry because Jack's so nice to her — 'Oh, you're always so nice to my character' — or we laugh so hard that we have to stop tape. That happened a few times before we noticed it was always either 'boo hoo hoo' or 'ha ha ha' and we went, 'My god, we're lunatics! Can't we just have a normal scene?' I love Alicia."
Matt Richenthal is the Editor in Chief of TV Fanatic. Follow him on Twitter and on Google+.