Prepare to be frightened, Guiding Light fans:
The soap opera has hired eight-year-old Seamus Davey-Fitzpatrick, the scary little guy from last year's remake of The Omen (pictured here).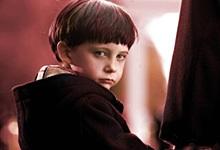 He pops up October 24 as Will, the adopted son of Cassie (
Nicole Forester
). The character was last seen in 2005 living with his birth father, Alonzo, in the principality of San Cristobel.
While Cassie thought this setup was best for Will, it turns out the kid has grown up totally withdrawn and, worse yet, has become best friends with Cassie's psychopathic ex-husband Edmund (David Andrew MacDonald), who also returns to the show this week.
Follow all that?
"Will comes to live with Cassie and it's evident there's something really wrong with the boy — especially when you cross him," says Guiding Light head writer Dave Kreizman. "He's not evil, he's not the devil's spawn, but he could be dangerous."
Gulp.
SOURCE: Michael Logan, TV Guide 
Matt Richenthal is the Editor in Chief of TV Fanatic. Follow him on Twitter and on Google+.