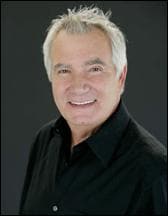 Let's hear from one of our favorite stars of
The Bold and the Beautiful
. John McCook recently sat down with
Soap Opera Digest
...
1. How has it been for you playing this revitalized, resurgent Eric?
Oh, come on! This is really fun for me, because it's a different energy. It's fun to be a romantic leading man, always. I've never been anything other than that. But for a lot of the years that I've put in here, I've been kind of a workhorse. Eric's been Stephanie's patsy and he's been the father to the other characters.
I like it when Eric is front and center. It's revitalizing for me. It's fun to work with Jennifer Gareis. It's always fun to work with a new actress; that's always energizing on a professional level. She and I are having a lot of fun playing this affair. We're having a lot of excitement about the fact that it might continue on and be here for a long time.
2. In past interviews you've expressed concern that Eric might cave or give in to Stephanie. So far, things are going full speed ahead.
So far, yeah. I want my Eric to be a happy guy. I want him to continue on this discovery. I think he's having a wonderful time!
3. Have you and Susan Flannery talked about where this leaves Eric and Stephanie?
No, we haven't talked about it. Susan and I don't talk about story. We open up the script each morning, and we read it. We open up the dialogue everyday and learn it together. We don't speculate as to where Brad's (Bell, executive producer/head writer) is going to go with the story, we just play it every day.
Read the full interview now.
Matt Richenthal is the Editor in Chief of TV Fanatic. Follow him on Twitter and on Google+.