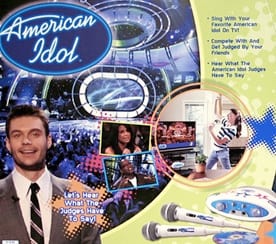 Hey, wanna be judged by Paula Abdul, Randy Jackson and Simon Cowell after singing your own personal rendition of "A Moment Like This?"
Wanna see how you stack up against Carrie Underwood, Clay Aiken and Katharine McPhee?
If so, perhaps you should invest in American Idol: Singing Competition.  This interactive DVD experience allows anyone with a DVD player to let deliver his/her version of 12 classic American Idol songs, while being judged by popular panel itself.
Here's how it works: Pop in the DVD, hook up the tuner and pick up the microphone that American Idol: Singing Competition supplies.  From there, choose any one of a dozen American Idol classics.
Using the provided microphone, belt out your personal version of the song, after which you are judged by virtual versions of Randy, Simon and Paula.  You have the option of singing karaoke style (with the words flashing across the screen) or completely by memory.
Enjoy!
Matt Richenthal is the Editor in Chief of TV Fanatic. Follow him on Twitter and on Google+.