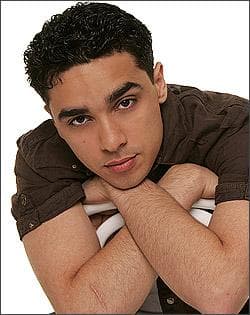 EJ Bonilla has portrayed Rafe Rivera on Guiding Light for almost seven months now.
Soap Opera Digest recently sat down with the young actor to discuss his time on the soap opera...
Soap Opera Digest: How are things? You're busy!
EJ Bonilla: I just wrapped on a production — a movie. It's called Don't Let Me Drown. It's a love story. I got the lead because I'm awesome [laughs]! My character is Lalo Aguilar; he's Mexican-American. It takes place after 9/11 and these [two] teenage kids and their families are affected by it in one way or another. The girl lost her sister and the other kid is sort of quiet and mellow and they just find each other, basically.
I've been with this project since way before I even knew about Guiding Light. I've been with it for like two-and-a-half years. It finally got funded and we finally got to make it, so when I first signed my contract [with GL], they knew about it. That's why I've been able to do it. I can admit it, it's awesome.
Digest: Speaking of Rafe, he's been having a rough time of it lately since Daisy's abortion. He's acting out and drinking again.
Bonilla: Part of it is he's just angry that [Daisy, Bonnie Dennison] did this, and part of it is that he's mad that he wasn't there to help her and that she couldn't trust him to tell him. He felt safe [with her] and that was really different, so it scares him that this person that he got so close to hurt him like that and lied to him or couldn't trust him the way he trusted her. If that's the case, then how real was [their love]?
That's scary for anyone. It's sort of freaking him out that his mom, the one who's always tried to put him in check, isn't. So he's free to really make his own mistakes completely now, so that's sort of weirding him out! He didn't really want to fall back into the alcohol thing, but he did.
Digest: It's common for teen storylines in soaps to address the alcohol issue. Will viewers see Rafe spin out of control?
Bonilla: I hope not! I think Rafe's smart enough that he realizes he doesn't need [alcohol]. It's just that easy way out, that quick fix. Once you sober up, you're sort of worse off than you were beforehand. I'd like to see him do better in school and get back on track and realize that if something goes wrong, it goes wrong and the bottle isn't going to do anything.
Digest: You recently experienced your first big Guiding Light fan event at the luncheon in October. How have fans reacted to the Riveras being in Springfield?
Bonilla: What I've heard a lot ... and from people of color, they're like, "Awesome! We needed some spice up in there [laughs]!"
Matt Richenthal is the Editor in Chief of TV Fanatic. Follow him on Twitter and on Google+.