As previously reported, Collen Zenk Pinter was diagnosed with oral cancer in 2006. Below, she talks about the ordeal with Soap Opera Digest.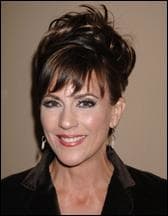 Soap Opera Digest
: How did this all begin?
Colleen Zenk Pinter
: I first noticed it last summer, so it's been over a year now. [I constantly had] canker sores coming and going last summer into last fall. They finally stopped going away and started getting larger — you know how painful one is, these were multiplying. I said, "This isn't right," and that's when I called my physician to get my yearly, thinking I could get in right away, forgetting that it takes a while to book something like that.
I called the second week of November and he couldn't get me in until the first week of January. I had actually talked to Eldo [Ray Estes, As the Worls Turns' key makeup artist] at work about it. I had shown him and said, 'I'm dealing with this nasty thing that won't go away.' So I went in and saw my doctor, got my physical. All of my numbers, my blood work, my cholesterol, my iron, everything was in great shape.
I was a really healthy 54-year-old who has boundless energy. I overbook myself all the time, as my mother tells me. I said to the doctor, "Take a look at this." And he said, "I don't like it. You're going to go see a maxillofacial specialist tomorrow." ... [The specialist] said, "I think you have a combination of a fungal and bacterial infection, so let's treat you for that." It was an antibiotic, a big bottle of orange medicine. And it started working and it got better. I would go back and see him every single week for five weeks.
And then it stopped working. [What was left was the tumor.] Usually, you don't know what's going on inside of your mouth. By the time I went into surgery, if I stuck my tongue out, you could see the right side was about twice as big as the left, and the tumor went way to the back. You could feel the entire thing. But who goes around feeling their tongue?
Digest: What has the response been like?
Pinter: The outpouring of understanding and love and encouragement that I have felt, from not just the fans but people who have found out about this and have had family members or they themselves have gone through it, the support has been overwhelming. It's all, "Thank you for getting it out there. Thank you for saying something, speaking up."
That's all it's about.
Matt Richenthal is the Editor in Chief of TV Fanatic. Follow him on Twitter and on Google+.