Jason Gerhardt stars on General Hospital.
He also stars as a family man in real life, as a recent interview with Soap Opera Digest revealed: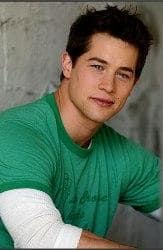 Soap Opera Digest
: So, congratulations on the impending birth of your son in December.
Jason Gerhardt
: Thank you! Yes, we're having a boy. I'm so excited. [Wife] Chalae's feeling great, but she's so ready to get that baby out. She's practically jumping up and down trying to get him to come out!
Digest: Does your wife watch your love scenes?
Gerhardt: She doesn't like to, but I'm always open for her to do that because I'm not hiding anything from her. It's my job to go home and make sure she feels okay. She met Kirsten Storms (Maxie) and they get along great. Kirsten has a boyfriend, and she and I have talked about it. It is a little uncomfortable because it's one of those things that's only supposed to be between you and your significant other.
But we're very respectful and we have our boundaries. We make sure the other one is comfortable with it and I'm not going to do anything that she doesn't want me to do. And Chalae's seen that it's very technical when you're on set. It looks very different on camera."
Digest: We hear you also just launched a fan club.
Gerhardt: Yes. The Official Jason Gerhardt Fan Club has just been launched. We're hoping it's not going to be your normal fan club. It's going to be very interactive with me. I'm going to be very available — and it's really charity-driven. Right now we're working with World Vision, which is an organization that helps children all around the world.
It's such a great cause. We're just a bunch of people getting together, trying to do some good and change the world around us.
Matt Richenthal is the Editor in Chief of TV Fanatic. Follow him on Twitter and on Google+.