Maksim Chmerkovskiy continues to hold nothing back when it comes to his Dancing with the Stars competition; or, to be specific, when it comes to Marie Osmond.
The handsome professional was critical of her selection to act as a "living doll" during the freestyle performance on last night's show.
"I guess she came out trying to do something... Whatever it is, I guess it's between her and [Jonathan Roberts}. But nobody else knows what it is," Dancing professional Maksim Chmerkovskiy told OK! Weekly after the broadcast.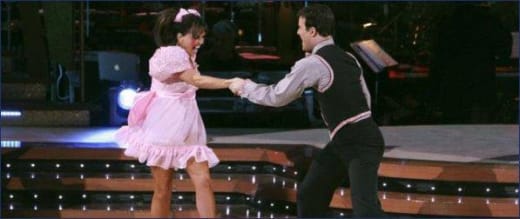 Maks even said he thought the entire routine was meant as nothing more than an advertisement for Marie's line of dolls.
"I guess it was a big doll company promotion," Chmerkovskiy added.
Moreover, Melanie Brown's partner didn't shy away from similar, negative comments he made last week regarding Osmond.
"I just said what everybody else was thinking," Chmerkovskiy said. "To add to that, Marie is one of those people you can't find any flaws with. I have nothing but the utmost respect for her. God knows this woman went through a lot this season. But, having said that, this is a dance show."
It's hard to argue with any of these points, isn't it?
Matt Richenthal is the Editor in Chief of TV Fanatic. Follow him on Twitter and on Google+.