In a fun interview with Soap Opera Digest, Martha Madison recently recounted her five favorite episodes/scenes/moments during her tenure on Days of Our Lives...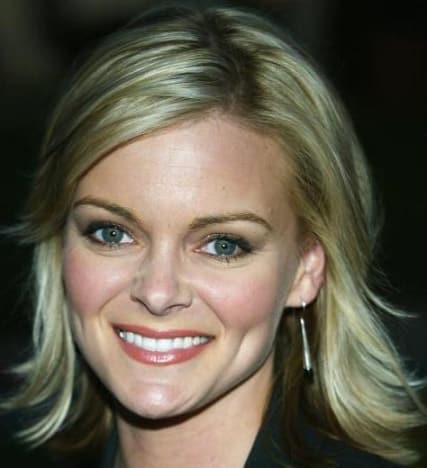 2005: HELLO, MOTHER
"I didn't work with
Deidre Hall
for about a year when I first joined the show, because Marlena was presumed dead. When it came time to do my first scenes with her, not only did I have to play the shock of 'Oh, my God! My mom is alive,' but I also had to do an entire show with Deidre Hall. It was a lot [to deal with]. I was scared to death. Deidre was like, 'Oh, my gosh. You're ridiculous for being so scared. We'll get through this together.' And we did. I connected with Deidre right away, and it was just awesome."
2004: SAY CHEESE!
"When Eric Winter (ex-Rex), Farah Fath (ex-Mimi), Jason Cook (ex-Shawn), Kyle Brandt (ex-Philip) and Heather Lindell (ex-Jan) were on the show, the six of us got to do this really fun photo shoot at Universal Studios Hollywood. It was on the New York City lot. They were trying to create that Friends shoot, and it was a blast. So much fun. I mean, there we were, working on a different lot, outside. We were all in trailers, and there were tour buses going by. You felt like such a star."
2005: BABY BLUES
"Playing Belle's postpartum depression after Claire was born was fun for me, because it was different. Doing that story brought my acting to a new level, too. It was really challenging. It was the first time we had done a postpartum story [on Days of Our Lives]. That, in and of itself, was a fun challenge for me. As an actor, I learned a lot, having to play something I had absolutely no idea about or how to play. It's the only time I ever really researched a lot of stuff. I had a lot of homework."
2007: QUEEN FOR A DAY
"Presenting at the Emmys this year on behalf of Days of Our Lives was a very big moment for me. There I was, onstage in front of all my peers and a ton of fans at the Kodak Center. I think back to when I was a little girl. I had big dreams, but I never really thought that something like that could be so awesome. But it was.
The other fun thing is that they shot the American Idol finale there, too, and I am a huge American Idol fan. The Emmys were like two days after the finale. So I was standing onstage thinking, 'Oh, my God! I'm standing right here, where Carrie Underwood used to stand.'"

2007: GOODBYE, DADDY
"The most recent thing was when Deidre, Drake Hogestyn (ex-John) and I did the outdoor shoot, where John was hit by the car. It was so awesome. We were outside, under all these lights, with all these people around us, doing this real car hit with stuntpeople. It was around 4 o'clock in the morning. It felt like we were shooting a movie. The scenes turned out so well, too.
The content was incredibly difficult, and you didn't want to mess up, because so much went into every single shot. So there was a lot of pressure on us, but I thought it was beautifully done."
Matt Richenthal is the Editor in Chief of TV Fanatic. Follow him on Twitter and on Google+.