Michael Ausiello of TV Guide has been a Private Practice critic from the start, but he's (slowly) coming around. Here's what he says in his latest column, which includes some quotes from Paul Adelstein (Cooper)...
Question: Got any Private Practice scoop? Was it just me or was the latest episode of Private Practice 100 times better than previous episodes?
Answer: I don't know if I'd go that far. In fact, I know I wouldn't go that far. While Private Practice is definitely improving, it's still not must-see TV. Yet. For one thing, the characters need to stop behaving like they're on The Hills. The concluding beachfront make-out scene between Kate Walsh and Tim Daly was so Lauren Conrad-Brody Jenner it wasn't even funny.
Still, the show is much better today than it was a month ago, and Paul Adelstein — perhaps Private Practice's most consistent bright spot — credits creator and executive producer Shonda Rhimes' prowess as a master tweaker.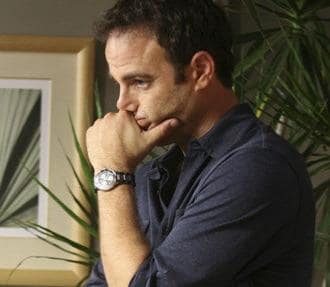 "Shonda is a great adjuster," Paul Adelstein said. "I mean, if you go back and look at the first few episodes of Grey's Anatomy and then towards the end or middle of their first season, you see that she figures out how to gel a cast and tell a story. What she does is very ambitious, in terms of a mix in tones, and it takes a while to get that alchemy right. I feel like we're hitting our stride."
On the romance front, Adelstein says Cooper and Violet will soon address the whole attraction-repulsion thing they've got going on.
"They make some decisions about how they think it should proceed, and then they try to act like [adults], and then, you know, hilarity ensues."
Steve Marsi is the Managing Editor of TV Fanatic. Follow him on Google+ or email him here.