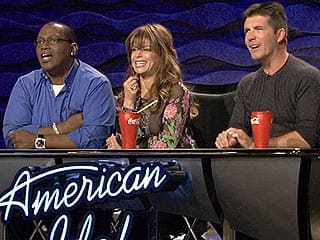 American Idol producer Nigel Lythgoe recently dished a bit on the upcoming season of American Idol.
Last season, he admitted, the show was chock full of big names such as Jennifer Lopez and Gwen Stefani. But Lythgoe told reporters "we got carried away with the mentors," and the focus will shift to the contestants this season.
"We will spend more time talking to the kids about their lives, what they want from this competition," he said.
Of course, there will still be guest judges this year. But Britney Spears won't be one of them.
"Britney, at this moment in time, I don't think is well enough to do anything," he said. "I think she needs looking after. I think she needs to pull herself together."
With ratings slipping a bit last year, Lythgoe said he has no illusions that the show will go on forever.
"I'm not that stupid," he said. "I do think that it will dip in the ratings. That's for other people to worry about. I just worry about making the best show I can make while I'm employed by that show."
Matt Richenthal is the Editor in Chief of TV Fanatic. Follow him on Twitter and on Google+.