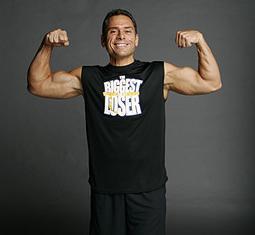 Bill Germanakos looks like a new man.
After shedding over 160 pounds to win the latest season of The Biggest Loser, he chatted with BuddyTV about the experience:
Is this something you could have ever even imagined?
It's a whirlwind like I never even could have thought of. Being pulled from the stage after doing the finale of one of my favorite shows, and winning it, knowing that my wife and kids were there, all my best friends were there, then being whisked away to a limousine, getting VIP treatment at the airport, just making the plane by a minute and a half, then six hours later you're speaking with Ann Curry on The Today Show.
You can imagine that it's like a whirlwind.
Do you have anything that you want to say to your fans?
Number one, I have to tell everyone, from all of the support that I was receiving from all over the country, and all of these forums, how appreciative that I've been to be getting so much support from everyone. It really drove me when things got difficult, to hear about and to read about all of the people that were cheering me on and rooting for me.
Especially after my brother got eliminated, everyone said "Now you have to do it for Jim, you have to do it for the twins." Believe me, I saw and heard every bit of it, and it really drove me and motivated me, so thank you to everyone.
Read the complete interview with Germanakos now.
Matt Richenthal is the Editor in Chief of TV Fanatic. Follow him on Twitter and on Google+.