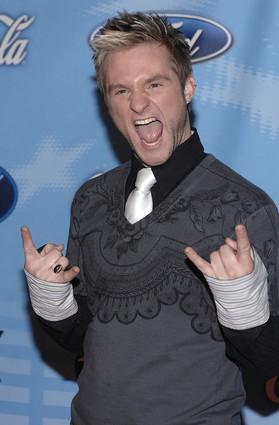 Here are a couple excerpts from an interview Blake Lewis recently conducted with our friends at BuddyTV:
We know you collaborate with your fellow Idol Chris Richardson a lot.  How much involvement did he have in the album?
We wrote one song together called "What'cha Got 2 Lose," and then we co-wrote another song with Sam and Frodo out of New York called "I'm Just Human," which will be a bonus on iTunes.  With "What'cha Got 2 Lose" I got co-production on that song as well with JR Rotem.  It's just great, a rollercoaster ride.
"What'cha Got 2 Lose" is kind of along the lines of "Break Anotha," but definitely funkier.  It's Prince meets James Brown meets The Zapp Band, rollercoaster into Michael Jackson "Thriller" in the breakdown with me scratching over it.  It was definitely the ADD track of Audio Day Dream.

Are there any guests on the album that you'd like to talk about?
There's just one guest, and that's Lupe Fiasco.  He blessed the track "Know My Name," which I wrote with Ryan Tedder and Josh Hodges.  It's just a funky soul Nikka Costa meets Robin Thicke inspired track, with an a capella breakdown, just vocals, beatboxing.
When Lupe comes in it's all vocals, there's no break with a drum set on it.  The track came out amazing and his verse is sick, so I'm very honored and fortunate to have him on this album.
Read the full interview here.
Matt Richenthal is the Editor in Chief of TV Fanatic. Follow him on Twitter and on Google+.