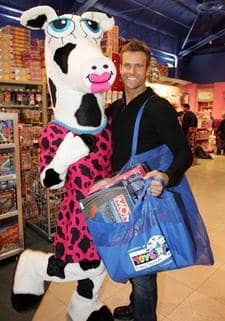 Cameron Mathison really does do it all.
From Dancing with the Stars to Toys for Tots, the All My Children times rarely has any free time. But he did find a moment to speak with OK! Magazine. Here are highlights from the interview:
How did you get involved with Toys for Tots?
I think because I'm a dad and people know I'm always really eager to do things with kids. And Toys for Tots is such a great organization, I jumped at the opportunity.
After five years of marriage, how do you keep the spark alive?
It's really hard. My wife is better at it than I am. I work a lot of hours and in this business you really try to keep as busy as you possibly can. Sometimes when you really focus on kids in your free time you lose the husband and wife relationship to some degree. It's been a real focus for us to make sure we stay focused on us two.
Now that Dancing With the Stars is over, are you still dancing?
I dance with my kids. Since I did the show, my son, Lucas, and my daughter, Leila, all they want to do is dance with me. They dance to cell phone rings. Every time they hear some sort of music, especially my daughter who's a year and a half, just gets down with me. My son actually wants to take dancing lessons with me, which I think is sweet.
Any holiday traditions you want to keep alive with your kids?
Christmas was always a big holiday in our family. Every Christmas Eve before we'd go to bed my mom and dad would read to us two or three stories and they would always be The Happy Prince, The Gift of the Magi and 'Twas the Night Before Christmas, and I would like to keep that alive.
Matt Richenthal is the Editor in Chief of TV Fanatic. Follow him on Twitter and on Google+.