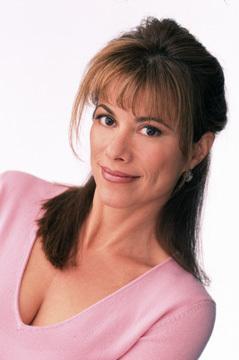 Next week on General Hospital, Alexis and Diane are nominated for the "Litigator of the Year" award, leading to a raucous trip to Philadelphia - and, of course, a side trip to a biker bar.
"This award is obviously something that Alexis has fantasized about her whole life, career-wise," said Nancy Grahn (pictured), who plays Alexis. "She gets on the plane and naturally, in soap land, she's sitting right next to Diane."
The two proceed to argue over their respective clients, Kate and Sonny.
"They end up sitting on the tarmac for two hours," says Grahn. "Diane's being annoying, but you also see that they're kind of friends. As women, they get each other. The argument gets worse and all hell breaks loose. They get thrown off the plane."
Ever resourceful, "they get in the car and drive," Grahn continues. "Diane drives like a maniac and they're fighting in the car. Alexis is such a nerd, going, 'Would you please slow down?' It's like they're married.
"Then you see Alexis driving with her glasses really slowly and carefully. They get a flat and Alexis has to change a tire, which is hilarious because I really had to do it and I haven't a clue what a jack is. Then Diane pushes Alexis and she pushes back and we just started doing shtick. We were hitting each other like girls."
When the duo gets back in the car, it runs out of gas.
"They end up having to walk through the forest. They find some inn and Alexis says, 'I hope there's a nice retired school marm in there with hot cocoa.' Diane counters with, 'I hope it's some big strapping guy.' Alexis says, 'Maybe he has a brother' and Diane goes, 'Maybe they're mute.' Alexis says, 'Yes. I like it much better when they don't talk.' They let us add that."
The two enter the inn, "and it's a freakin' biker bar!" says Grahn. "One guy says, 'I'll let you use my cell phone if I can dance with your friend.' Diane throws Alexis at him and goes, 'She'll dance with you.'"
Tune in to General Hospital in 2008 to see what happens next!
Matt Richenthal is the Editor in Chief of TV Fanatic. Follow him on Twitter and on Google+.