Last week, we posed the following question: Just how realistic is Gossip Girl? New York Magazine answers that question each week, with a rating system of surreal and real moments from the show.
According to the publication, this week's new episode, "Hi, Society," was deemed to be equally realistic and unrealistic, tallying 26 points in each column. Here are some highlights from their latest evaluation ...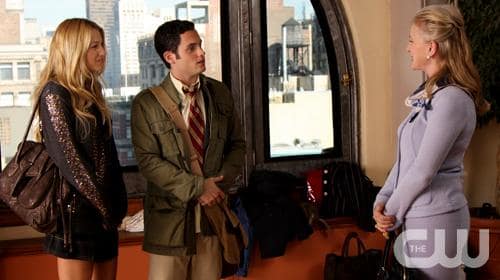 CeCe is way too young to play Serena's grandmother, especially since Blake Lively herself is approximately 35. Minus 1.
"I don't like my ice to get lonely dear," says Serena's grandmother, asking for another gin. We have no idea whether this is accurate, but we are using this line for the rest of our lives. Plus 5.
The New York Times doing "A Night Out With Blair Waldorf" is laughably inaccurate. A moderately prominent Upper East Side teen? She's way too famous for that column. Minus 3.
We need to award points for the whole summer-abroad explanation. We wonder if this has to do with the mysterious "night in Santorini" that is referred to between Carter and Serena. Plus 5.
At Blair's tea, what the f*%king hell are the black and Asian sidekicks wearing? Minus 1.
Between Blair and Chuck, the making-out scene is so accurate. They care so much about the kissing part, including the random rubbing of the leg through her tights without any further goal. Also, it is so high school that Blair went from virgin to nympho in like a week. Plus 1.
How can these kids have a huge important dress-up party every weekend? No humans could ever really keep that up. Minus 2.
Funny stuff as always... and pretty accurate. Follow this link for New York Magazine's full commentary and Gossip Girl scoreboard ...
Steve Marsi is the Managing Editor of TV Fanatic. Follow him on Google+ or email him here.