Jack Mackenroth dropped out of Project Runway this week.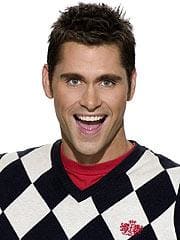 He
talked to People
magazine about the decision:
Take us through your last day on the show.
I just got to a point where I couldn't even concentrate. I was exhausted. As the bacterial infection spreads, within 48 hours, you get a fever. My work was suffering and I was like, "You know what? I really don't want to leave but I can't stay here." It was not an HIV related thing but I have to be extra cautious.
So getting treatment and coming back wasn't an option?
There was an issue of contagion so I didn't feel comfortable. It's bacteria. Anyone can get it by touch. So that's not fair. And number two, [the medication] is such a strong antibiotic that it takes two hours to administer [intravenously]. It's four hours a day that I would have been gone.
You're very open about being HIV positive on the show. Have you received any feedback from viewers?
I get a lot of emails that are really touching from people that just found out they're HIV positive. I try to answer all those and I read all of them and it's amazing. If I can do a little bit of good in that respect then I've won at the end of the day.
We hear you're dating Top Chef's Dale Levitski?
I always thought he was hot! On my MySpace page there's this little section that says who do you want to meet? And I put I want to meet Dale Levitski from Top Chef! I just threw it out there into the universe. And so a friend of his saw my page, told Dale, and then Dale messaged me. We started chatting and then we ran into each other at a party in New York City and we just clicked.
Matt Richenthal is the Editor in Chief of TV Fanatic. Follow him on Twitter and on Google+.