Eight months ago, Patric M. Verrone, president of the Writers Guild of America West, sketched out what could have been a script for the collision that wrecked talks between Hollywood's producers and striking writers on Friday.
Verrone described the looming negotiations with employers as a confrontation much grander than a fight over pay formulas. This would be about respect.
Writers, he said, were looking to restore a sense of leverage and status that had been lost many years ago as ever-larger corporations began taking control of the entertainment business. He described Hollywood as teetering on the brink of a dark age, as far as creative types were concerned.
"I think if they could do this business without us, they would, and so making our task as mechanical and simple and low-paying and unartistic as possible," Verrone said.
The solution, he added, was to squeeze the corporations that own the studios, in an effort to represent the legion of writers on reality and animated shows that the guild had not organized through sign-up drives.
"There are things we can ask for in bargaining that will allow you to reach up to the mother ship and then back down into the nonunion company," he said.
On Friday night, five weeks into the writers' strike that now promises to drag on well into the new year, seriously complicating plans for this TV season and the next, and opening the door to a tube filled with reality TV shows and other substitutes, it became clear that Verrone & Co. were serious when they talked about a revolution.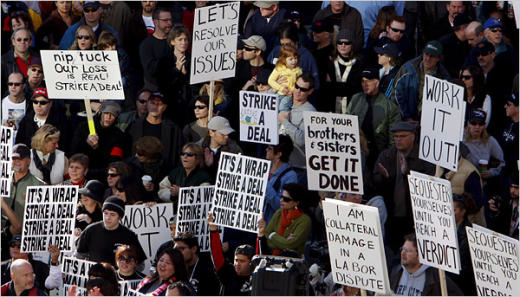 Advocates of a strike settlement stage their own protest.
After days of haggling over complicated formulas for Internet pay, the latest round of talks blew up over the deeper issues that had until now been buried.
Accusing the guild of pursuing "an ideological mission far removed from the interests of its members," the Alliance of Motion Picture and Television Producers expressed outrage over continuing demands of the writers not strictly related to pay.
These points include requests for jurisdiction over the individuals who write for reality TV shows and animated movies; for oversight of the fair-market value of company transactions that may affect writer pay; and ending a no-strike clause that prevents members from honoring picket lines of other unions once a contract is reached.
Continue reading in the New York Times ...
Steve Marsi is the Managing Editor of TV Fanatic. Follow him on Google+ or email him here.