He missed out on Sexiest Man Alive (coming in second), but Grey's Anatomy star Patrick Dempsey has been named "Star of the Year" by People magazine.
The 41-year-old actor received the top honors for having had a great year on and off screen. Patrick Dempsey, who plays Dr. Derek Shepherd on ABC's Grey's Anatomy, graces the cover of the celebrity magazine's year-end issue.
"I'm just enjoying everything in life more than I ever have ... I'm trying to enjoy the moment while it's here and to be able to provide for my family so that I can step away and enjoy raising them away from all this," Patrick Dempsey told People.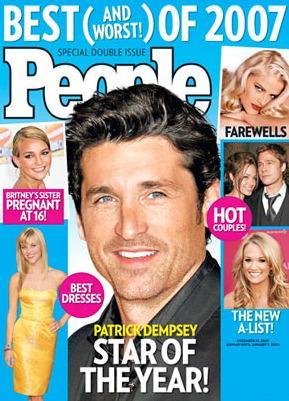 Things weren't always easy for the Grey's Anatomy star Patrick Dempsey.
After appearing in several notable '80s films, including Loverboy and Can't Buy Me Love, he failed to land subsequent roles that would have furthered his career.
His marriage to his former manager, Rocky Parker, a woman 26 years older than him, also collapsed, driving him into what he called a period of severe depression.
"It was a very difficult time. I was insecure, felt I was no good," Patrick Dempsey said. "It took me two days to get psyched and it was very hard to stay positive. There were years when I wasn't working and people didn't care about me."
However, people certainly started caring about him again when he landed the role of Derek â€" a.k.a. McDreamy â€" on Grey's Anatomy. His personal life also received an enormous lift when he married Jillian Fink, a celebrity make-up artist, in 1999.
Apart from their twin boys, Darby and Sullivan, born this February, Patrick and Jillian Dempsey also have an older daughter Talula, who is 6.

Congratulations to Patrick on this well-earned honor!
Steve Marsi is the Managing Editor of TV Fanatic. Follow him on Google+ or email him here.