Here are a few highlights from an interview America's Next Top Model, Saleisha Stowers, gave to TV Guide:
TVGuide.com: Some people have suggested that you were a lock to win Top Model from the beginning because you'd been to Tyra's self-esteem camp. What do you say to that?
Saleisha: Honestly, I feel that â€" how do I say this? â€" they're not really seeing what the camp was. It had nothing to do with modeling! I was 14 at the time, and I'm 21 now. It was years ago! I'm a totally different person now than I was then!
I learned a lot and the camp did help me become the woman I am now, but I don't know that the camp had anything at all to do with how the judges critiqued me or even them wanting me on the show. That was all based on my photos and how I did in the competitions.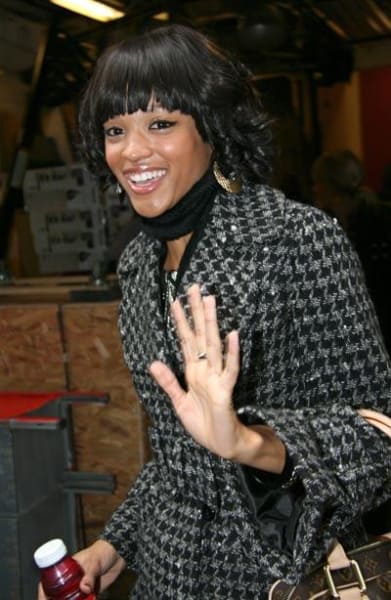 Saleisha Stowers is America's Next Top Model. Get used to it.
TVGuide.com: When you were in the final two, would you have preferred to be competing with someone you weren't quite so close to?
Saleisha: I wanted it to be Chantal! I said from the beginning that I wanted us to be in the final two, and I'm glad it turned out like that. We both worked our butts off to get to that point.
TVGuide.com: Any regrets about throwing Jenah under the bus at what turned out to be her final panel?
Saleisha: I just told my true feelings. Jenah's a great person. I just went out there and said how I felt, and that was the best I could do. I wasn't going to go out there and lie. It sucks that you have to say that, but you do have to be honest. Do you want your sisters or people looking up to a person who is, you know, like that? You have to be honest with yourself.
TVGuide.com: Let's talk about the final CoverGirl commercial. What the hell were you guys trying to sell?
Saleisha: Wet Slick Fruit Spritzers.
TVGuide.com: Do you think they made up that name deliberately to be impossible to say over and over again?
Saleisha: It's a tongue-twister, but it's a really cute name! It attracts young girls. I mean, once you hear it, you're like, "Oh, that sounds all fruity and good!"
Matt Richenthal is the Editor in Chief of TV Fanatic. Follow him on Twitter and on Google+.